Montaire Icelandic Horse Trainers
Is there a gene for fascination with horses? If so, I must have been born with it as I have loved horses from first sight. I learned to ride early on and bought my first horse, an off the track thoroughbred. While in college at NYU I boarded him and continued lessons at a hunter jumper barn in New Jersey. When I moved to New Mexico in 1992, I became a serious dressage rider, studying under Ulla Hudson. Sadly, problems with my back limited my ability to sit a big trot and the extensions required to progress. Ulla came to the rescue by introducing me to her Icelandic horses, and soon I was hooked on their smooth gaits, charm, beauty, and yes, pizazz! I have been a rider, owner and promoter of this fabulous breed ever since.
In 2015 I started Montaire, a facility designed especially to train the Icelandic Horse. I traveled to Iceland and Germany to study well-established Icelandic facilities there and adapted their successful designs to building Montaire. In addition to stables, a large covered riding arena with appropriate footing, grazing and dry lot paddocks, I built regulation sized oval and pace tracks.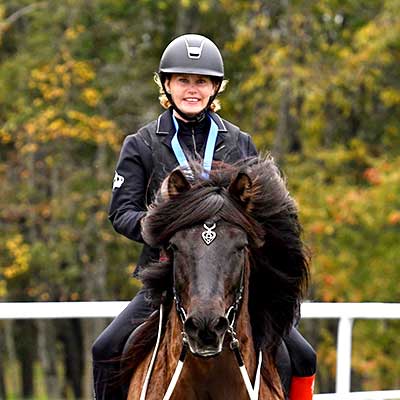 Montaire is now the only Icelandic Horse venue in the wider Mid Atlantic region that meets world regulation training and showing standards. In this way, Montaire allows riders and owners to participate in and aspire to the highest levels in Icelandic riding sport and breeding shows. The growing community of people drawn to the Icelandic Horse has found at Montaire a badly needed center for continual learning and for sharing activities built around our common passion.
I am grateful to be a part of this community and will continue to work towards enhancing the knowledge, improving the practice, and expanding the opportunities required to promote ownership, use and love of this extraordinary horse.
IPZV Trainer A
Level 4 Int'l Trainer
IPZV Master Instructor
IPZV Sports judge A
IPZV Breeding judge
IPZV API examiner A
FT  Trainer
Gaedingakeppni Judge
International Sports Judge
Tölt in Harmony Trainer/Judge
Futurity Judge
Hestadagar Judge
Head Coach Montaire Icelandics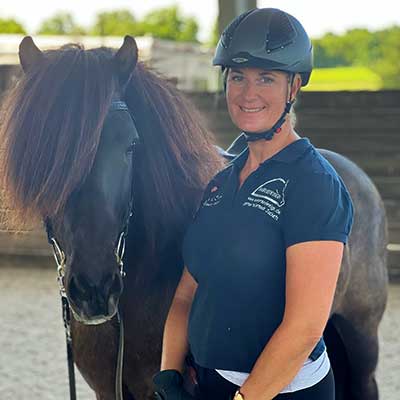 Nicole is one of the most credited trainers in the Icelandic horse world. She has been competing in the International level including the World championship. Nicole has won countless blue ribbons and titles with multiple horses since 1990. In 2008, she has mastered the highest level of teaching education. For the last 25 years, Nicole has been earning her living mainly thru teaching all over the world. She is comfortable working with all levels of horses and riders. We are honored to be able to offer lessons from her here at Montaire. Nicole will be available for lessons, please check out our Events page.