Breeding mares: None available
Youngsters: Yes
Pleasure horse: Yes
Sports/pleasure horses: Yes
Price Categories:
A) $5,000-$8,000
B) $8,000-$13,000
C) $13,000- $18,000
D) $18,000-$22,000
E) $22,000-$27,000
F) $27,000- OPEN
Price Category: A) Gneisti from Skeið Pig Farm: Reg. # US2021105798
Gneisti is very personable and handsome gelding born in 2021 under our famous stallion Galdur frá Reykjavík  IS2009125291 who received an 8.48 for his conformation and riding abilities. Gneisti shows a lot of natural tolt out on pasture and just has a wonderful personality. He is the first one to greet you, is friendly and happy to please whoever walks up to him on pasture. For his young age he already has a lot of mane and tail. He will be a perfect future trail and pleasure horse.
*** Photo coming soon ***
Price Category: C) Ísak fra Møllemarken: Reg. # DK2011100078
Isak was imported from Denmark to the US and is a son of the most famous stallions in the World and the 2017 World Championships winner Viktor fra Diisa DK2004103659 with an amazing score of 8.63 in conformation and riding abilities! Isak himself is a gifted gelding who is very intelligent, charismatic and a look in his big black beautiful eyes makes you just fall in love with him. He needs his own person, is five gaited but only trained in four gaits. He is good on the trail, likes to jump and also a little bareback riding. Isak is suited for an Intermediate, supple rider with some experience and who will be invested in a professional Icelandic horse trainer. He has a medium temperament which means he likes to go forward but always in good control. He has a lot of Liberty training from Carrie Brandt and Terral Hill from Taktur, LLC in Kentucky who can attest that he learns extremely quickly! If you are looking for a Competition or Liberty gelding who gives YOU his all, please consider Isak.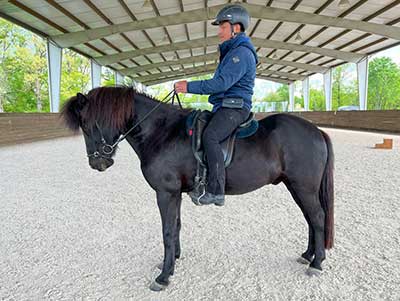 Price Category: E) Halldór von Birkenlund Reg. # DE2016163901
*** Photo coming soon ***
EYE CATCHER!!! Halldor was imported as a youngster from Germany and has been started, trained and shown by the team of Carrie Brandt and Terral Hill from Taktur, LLC in Kentucky for 3 years. He is a very talented 4-gaiter with good movements in all his gaits and a very clear beat. He is tall, black, beautiful and very affectionate gelding. He has already proved his qualities in shows and is also very safe and happy going out on trails rides. He is meant for an ambitious rider who either wants to join shows on the oval track, further their skills in Liberty or just a luxury riding horse.